pjur gives you more trade show highlights at eroExpo in Moscow
---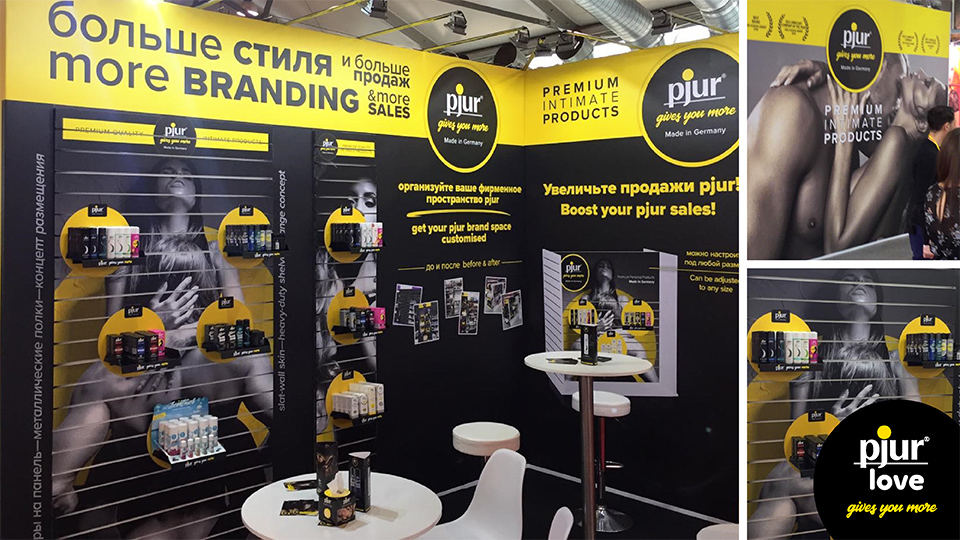 Wasserbillig/Luxembourg, November 2019. At the eroExpo Show 2019 (November 1-3, Moscow/Russia), pjur, the leading manufacturer of premium intimate products, demonstrated its commitment to deliver high-quality point-of-sale solutions to its customers. Next to the pjur brand space concept, product innovations and information about training opportunities were discussed.
Appealing appearance with pjur brand space concept at the booth of Erotic Fantasy
This year, pjur's brand space concept was integrated into Erotic Fantasy's booth and could not be missed. The pjur experience slat wall set featured a rear panel that really stood out. The attractive, eye-catching wall display facilitated orientation at shelf. Specifically, for eroExpo, pjur showcased a version with English and Russian information.
"We have received a lot of positive feedback from our customers regarding the brand space concept. Some ideas will help us improve and develop the concept for the Russian market", explains Alexander Giebel, CEO and founder of pjur. "Together with customers from Moscow and Saint Petersburg we will focus on the development of the pjur brand in the Russian market", adds Alexander.
Product innovations for additional sales
The new products could convince Russian customers: pjur BACK DOOR Regenerating is the latest addition to the successful BACK DOOR portfolio. It reflects the trend towards the increased use of anal toys. The water-based personal lubricant is compatible with all toys and contains the nurturing and soothing ingredients panthenol and camomile. pjur AQUA Panthenol is targeted at consumers who prefer water-based personal lubricants due to the more natural texture and who are looking for high quality products with moisturising ingredients. Panthenol has a moisturising effect, it enhances the skin's elasticity and protects irritated skin. The water-based lubricant with panthenol can be used for masturbation, sex and is compatible with sex toys.
Training is key element for good service
The pjur offer to the distribution partners is rounded off with a comprehensive training offer. The interest and the many questions about the pjur products and their ingredients confirm the trend towards more service and advice in the shops. In addition to information on the pjur portfolio, the training document also includes sales tips and sample discussions with customers. As an extra service for the dealers and their sales personnel, pjur has provided the printed training documents in their native language.
About pjur (pronounced "pure")
The pjur® group is headquartered in Wasserbillig, Luxembourg, and has a global presence across five continents. Its portfolio includes over sixty products in a number of different categories which are sold in more than seventy countries. This includes water- and silicone-based personal lubricants, massage lotions in the pjur SPA range, stimulation and delay products as well as specialist products for niche markets and hygiene products.
Contact for journalists:
pjur group Luxembourg S.A.
Johanna Höllriegl
Global PR & Communications Manager
+352 74 89 89 - 53
---